WCF Performance Tuning
WCF framework
is de-facto framework for distributed systems in .NET
supports various message exchange patterns and formats
is extensible and customizable
Basis of a WCF service
Address

http://my.api.services.net/customers
net.tcp://super.service/contacts

Binding

Transport protocol
Message enconding
Communication pattern
Reliability
Security
Transaction propagation
Interoperability

Contract

Data contract
Operation contract
WCF bindings
BasicHttpBinding
WSHttpBinding
WSDualHttpBinding
WSFederationHttpBinding
MsmqIntegrationBinding
NetNamedPipeBinding
NetMsmqBinding
NetPeerTcpBinding
NetTcpBinding
Out of the box tuned for all occasions
Except performance!
Defining "fast" WCF service:
up to 100ms response time
able to handle more than 2K req/sec over HTTP
Choosing fast data contract formats
JSON (vs XML)
Google Protocol Buffers (vs Binary)
Google protocol buffers
Very fast, compact
Getting popular fast too
Several .NET implementations: protobuf-net, proto#, dotnet-protobufs
NetTcp + ProtoBuf = Super Fast
Serialization benchmarks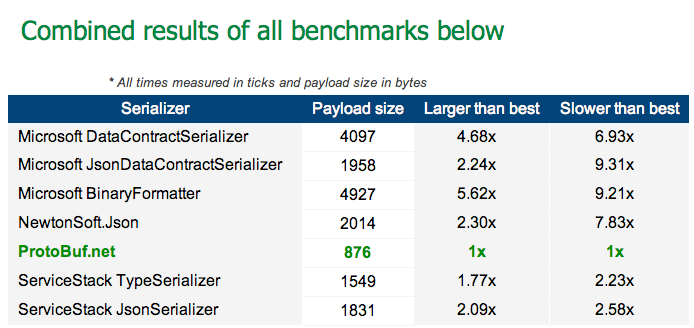 Tuning ServiceThrottlingBehavior
Prevents overloading of a service
Default values are usually too strict
WCF service instance management
PerCall
PerSession
Single
ServiceThrottlingBehavior properties
MaxConcurrentCalls

v3.0: 16, v4: 16*CoreCount

MaxConcurrentSessions

v3.0: 10, v4: 100*CoreCount

MaxConcurrentInstances

v3.0, v4: MaxCocurrentCalls+MaxConcurrentSessions
Handling burst of requests after being idle
Every request is important
No excuse for "Oh, timeout? Please try again, our system needs a warm up"
WCF slowiness issue after being idle for 15 sec
WCF uses completion ports (IOCP) thread pool for request processing
There is a 15 sec timeout for IOCP thread pool
Thread pool takes time to create new threads for incoming requests
Issue still not fixed in .NET 4
Asynchronous operations
WCF service operations supports APM
Should help on blocking operations: r/w file, network stream
Thanks! Further topics for this evening
Any more tips to add?
Alternatives to WCF?
Questions?